View From the Box: the post-bout recap.
For the hit-by-hit detail, be sure to follow us on Twitter.
Time it well and you can get MAD Girl live-action commentary!
MAD vs. DOA
The MAD girls and DOA met again only this time it was for the Mankato home crowd. Hitting all the tricks on the big top stage was our MAD girls yet again. The Dames fought like lions but in the end there were the MAD girls tamed the team with a the Final score of 154 - 88.



MAD vs. Roller Underground
MAD girls finally showed their home crowd what this seasons team is all about. Offering fans not one but TWO bouts Saturday April 25th, 2015. The first of the double header showcased teamwork and the true definition of derby love. As both men and women from teams all of the Minnesota area joined forces to battle derby style. Both teams fought well and in the end team Blocking Brads took the title of Slamit Janet Mixer Champion.
For the main event the MAD girls took on Roller Underground. A newer team full of spirit and passion for derby. Unfortunately for them this spirit wasn't enough as the MAD girls dominated the first half and continued to keep the Ores cool for a final win of 276 - 52. Racking up the points for the MAD Girls was Strawberry StrikeHer and Nurse Nutcase. Creating walls that no iron could break through were Whindy Q, Mean Latifah, Dirty Martini.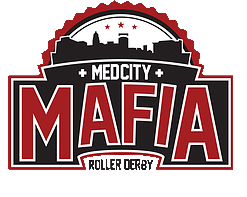 MAD vs. Med City

Your Mad Girls gave a great fight, but in the end it was Med City who came up on top (338 to 66).

The Mafia girls came strong out the gate with speed and quick jammers that seemed to find every hole. But our Mad girls landed some heavy hits and fought hard. Major shout outs to the return of our adored Iron Ova, and Mad Mamasita for proving you can never keep that mama down.

Next Bout is COMING HOME! Keep your eyes out on Facebook and here for ticket info.

Derby Love from all your Mad Girls.


Tonight the Mad Girls rolled, pushed, and jammed their way to an amazing VICTORY! (150 - 125).
The DOA girls started off fierce, but in the second half the MAD girls showed what they were made of. Nurse Nutcase, Rebel Heart, and Strawberry Strikeher each showed what is means to jam as the weaved and pushed through the DOA pack. However the wall should never be forgotten. Whindy Q, Mean Latifah, and Mad Mamasita each held their own to keep out the anarchy. That was until Mad Mama took a hard hit and will need to take short break from her skates.
Next Bout is is Rochester, MN against the Medcity Mafia. Hope we don't get whacked. Keep your eyes out on Facebook and here for ticket info.
Derby Love from all your Mad Girls.